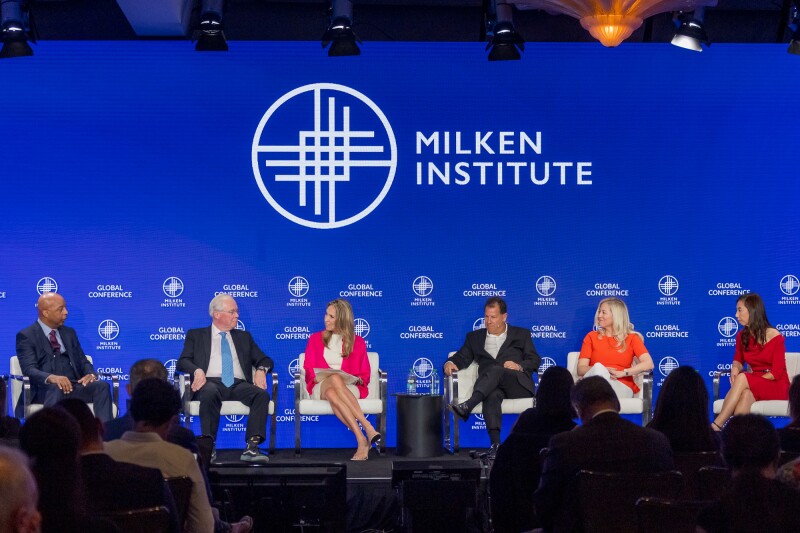 On May 2nd, I had the pleasure to speak on a panel at the Global Conference put on by the Milken Institute. The topic was something that Wayfairians are intimately familiar with—" Retail's New Reality: Technology, Innovation, and Consumer Behavior."
For the session, I was joined by a group of incredible executives from some of the world's most recognized brands. They included:

Marvin Ellison, Chairman, and CEO, Lowe's Companies, Inc.
Rodney McMullen, Chairman, and CEO, The Kroger Co.
Jamie Salter, Founder, Chairman, and CEO, Authentic Brands Group
Elizabeth Spaulding, CEO, Stitch Fix
Led by moderator and Bloomberg TV anchor Carol Massar, we spent an hour discussing the state of retail in the post-pandemic world. Specifically, how it has impacted everything from on-and offline shopping and consumer behavior to my favorite topic of all, technology and how it's helping to create shopping experiences that keep customers coming back for more.
Physical vs. Online: What's Next?
After watching online shopping figures soar over the pandemic, a natural place for Carol to begin was asking what's next when it comes to on and offline shopping. What became immediately apparent is that even the traditional brick and mortar brands recognize the importance of their omnichannel presence. While online commerce remains strong and consumers flood back into stores, the key for retailers will be meeting customers wherever they are.
This gave me the perfect opening to touch on Wayfair's plans to open three physical stores in 2022, with the first coming at the end of this month. These stores will augment the digital with physical retail locations where we can serve customers AND learn more about them in critical new ways.
Marvin also touched on the theme of balance for Lowes, where customers frequently begin the buying process online, but when it comes to the purchase, the transaction ends in a store. This is especially true for higher-priced items like appliances. For Lowe's customers, the store allows them to consult the salesperson and ask important follow-up questions to make their purchase with complete confidence. All through this experience, that balance is key.
Despite dipping into the Metaverse, the physical stores also remain vital for Authentic Brands Group. Jamie and his team recently launched the Forever 21 store into the Metaverse and, more specifically, the game Roadblocks, where shoppers are treated to a digital experience that feels like they're in a real mall. While it's very cool, Jamie quickly stressed that the physical mall locations will remain important because they give customers a place where they can walk and talk with their friends.
Retail & Technology
Throughout this on and offline balance discussion, the topic of innovation was a constant element. Take Stitch Fix, which pairs data science and cool features like Style Shuffle and Community Vision with its team of 4,000 online stylists. With these features and customer feedback, stylists get to know their customers and understand their style. Through this insight, they connect them with looks they have seen within their community and inspire them with new recommendations. For Stitch Fix, this human and tech-enabled process leaves customers wanting more and returning less—their return rates are less than half of the typical apparel retailer.
Like Stitch Fix, Wayfair understands the challenges of offering a massive catalog of products—namely, maintaining and curating the tens of millions of items, as well as augmenting, enriching, and ensuring accurate and complete product information to connect each person with the perfect item for their home and make their purchase with confidence. With our investment in 3D imagery, we allow customers to easily see what they are buying from multiple perspectives and even visualize them in their room. These capabilities are especially vital when buying high-value products.
Marvin touched on how during the pandemic, Lowes consumers were reluctant to allow anyone in their homes but, at the same time, became more comfortable using technology to solve problems. Lowes created two new apps.
Lowe's new measurement app for customers who want to buy flooring or carpeting. The shopper could do all the necessary measurements from the app and then, following the purchase, go to the site and pick up.
Lowe's developed an app for customers concerned about issues in the home, such as a broken water heater. Through the app, customers can speak with contractors, show them the water heater virtually, and then determine if someone needs to come in.
Rodney also touched on an innovative feature that Krogers has introduced to customers engaging with the company online. Like most supermarkets, Krogers offers an online shopping option, but it's not only about filling orders. Krogers is using this as an opportunity to educate customers with OptUp score, a nutrition rating system designed to simplify choosing nourishing foods and make it sustainable for customers to shop and eat well.

What's Next?
It's clear retailers will continue pushing the boundaries on the digital side, where challenges remain, and opportunities are endless. As Jamie pointed out, 80 percent of consumers still say it's a pain to shop for clothes online. For her Stitch Fix team, this is an exciting challenge to solve, which they are doing through what she calls, Human-in-the-loop machine learning (Human + Data), which among other things, helps them improve their keep rate by leveraging data science and feedback from their stylists and the client community.
Like Stitch Fix, Wayfair is also looking to tackle challenges with technology which ties back to our discussion on the Metaverse and our investments in 3D and digitizing photography. In the future, we envision a digital twin of your home in the cloud or Metaverse. This will be a place where customers can go and see what things would look like in their physical home. It's all about meeting customers where they are and letting them shop however they want.
I enjoyed the discussion we had and the insights shared by all panelists. In the end, there were very clear themes that prevailed. Most notedly, the critical balance between the online and offline worlds as well as between humans and technology. As retailers, the onus will be on us to find the right mix that allows us to listen to and learn from our customers, understand their needs, provide recommendations and, at the end of the day, make it as easy as possible to shop however and wherever they choose.
If you're interested, you can check out the full discussion here.