Our 2022 DEI Perspectives provides a look back at the progress we've made on our DEI journey over the last year, highlighting stories and perspectives from the voices of our employees at the intersection of DEI commitment and action. Diversity makes Wayfair better and our employees are at the heart of fulfilling our mission to be the leader in home.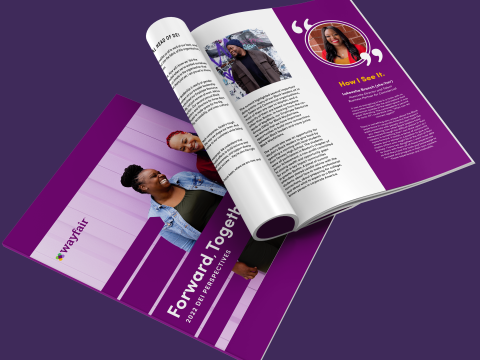 Building an Inclusive Community at Wayfair
Supporting our teammates has always been central to our work.

Our appreciation for each employee and the type of culture we are building to support them has become an even greater priority in recent years. So, we doubled down on our commitment. We worked to find the right talent to drive our commitment to diversity, equity, and inclusion (DEI). We explored internal data to provide insights to guide us. We refined the definitions of diversity, equity, and inclusion to provide a solid understanding of what they mean at Wayfair.

The goal of our work to elevate diversity, equity, and inclusion is to create a sense of belonging and an environment where all people can choose to be who they are — no exceptions and no apologies. We do this work on behalf of all Wayfairians who we want to feel welcome and able to bring their full selves to work.

Our Focus Areas
We have grouped our action, and this report, into four distinct areas:
Employee Resource Groups & Affinity Groups
Building our Infrastructure
Our employees are at the core of our mission to be the leader in Home, which can only be realized through having Diversity, Equity, and Inclusion wrapped into all we do. From the unique experiences and perspectives our employees bring to Wayfair to the variety of product assortment we have and supplier partners, customers, and communities we serve – diversity makes Wayfair better. We are proud of the progress our teams are making to build our inclusive community and look forward to more positive changes across the organization as a result.
Niraj Shah (he/him) | Co-Founder, Co-Chairman & CEO
To create a system that works for everyone, we must weave inclusion considerations into every aspect of our organization — across all teams, levels, and geographies. From the Board of Directors to front-line Wayfairians, we want everyone to:

• Appreciate how our DEI commitment makes our business better
• Learn how to apply a DEI lens in their day-to-day work
• Continue taking action to increase workforce diversity by amplifying workplace inclusion
Our Workplace Our doors are open to anyone looking to grow their career, solve hard problems, and work together as we change the way people shop for home.
Who Makes Up Our Community?
We use data to understand the current state of DEI at Wayfair, set goals for improvement, and track our progress over time. While representational diversity is just one piece of the puzzle, we believe it's important to be transparent about who makes up our community and where we have opportunities to improve.